What is Diabetes?
Diabetes is a chronic disease that affects the process of turning food into energy. Food, when broken down, is transformed into glucose then it enters in your blood, and sugar levels rise in your blood. When it reaches high levels, pancreas interferes and releases insulin to reduce the amount of glucose in the blood. When you have diabetes, your body doesn't make enough insulin or doesn't use it the way it should.
Diabetes symptoms
There are a large number of symptoms that could indicate that we are developing diabetes or that we already have this disease. The most important are the following according to the CDC: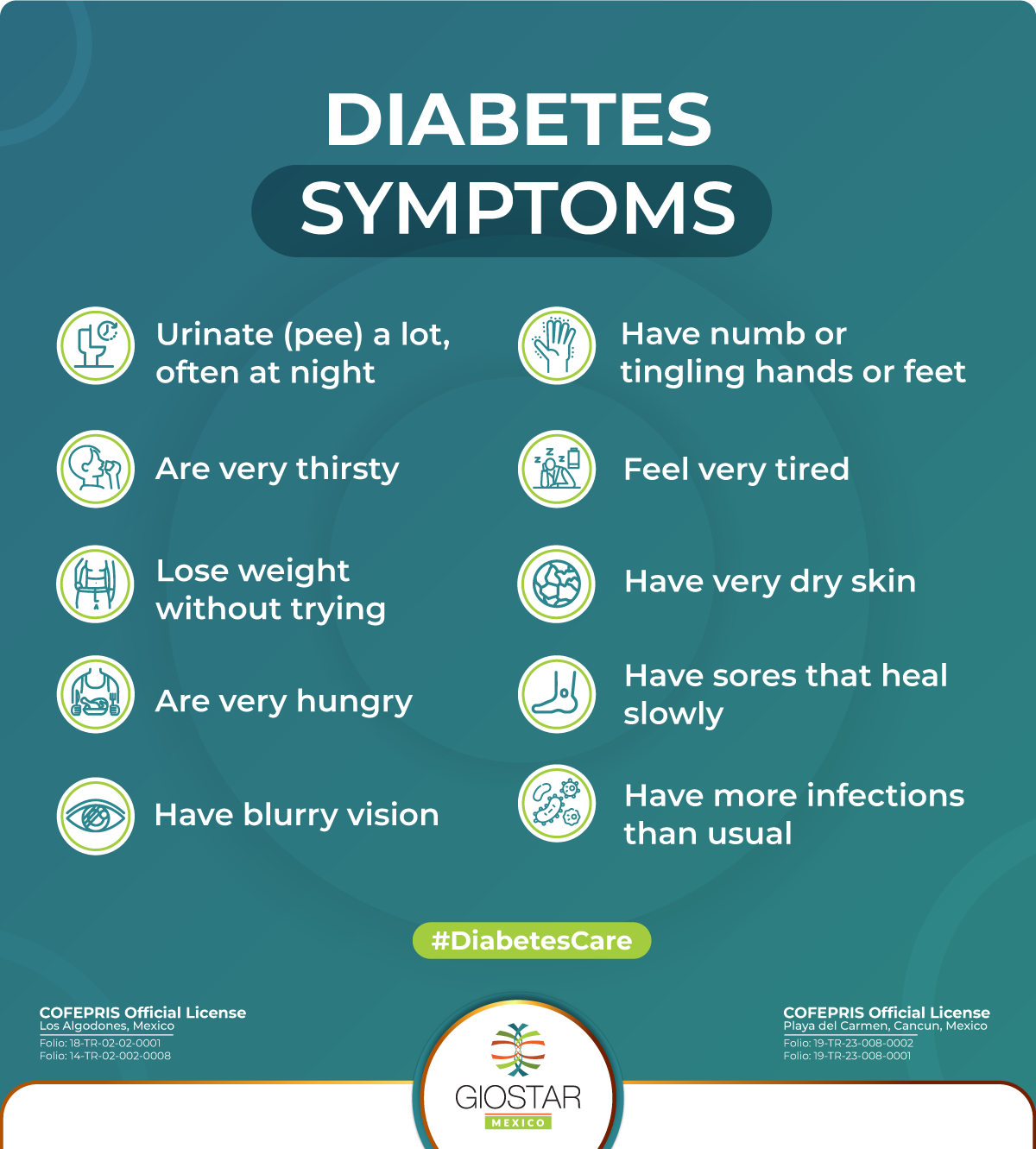 In the case of type 1 diabetes, other symptoms may occur such as: nausea, vomiting, stomach pain. This can be over the course of a few months or even a few weeks. In the case of type 2 diabetes (which takes many years to develop), you may not notice any symptoms or you may even be used to them and not know they are due to diabetes. It is recommended to perform a sugar level test at least every 6 months, in order to prevent or help control diabetes.
Type 1 diabetes
As you may have noticed, we mentioned that there are two types of diabetes. This is because diabetes, being a condition that affects the use of insulin or its creation, can occur for two main reasons. The first of these is known as type 1 diabetes.
This type of diabetes is characterized by being a disorder resulting from an autoimmune destruction of insulin-secreting pancreatic β cells. R This means that the body's own immune system destroys the cells of the pancreas. The consequence of this is that the pancreas stops producing insulin and sugar levels start to rise by not having a way to reduce them.
According to the National Institute of Diabetes and Digestive and Kidney Diseases (NIDDK), the reasons why the immune system attacks the cells of the pancreas can be for several reasons, among them are: deficiencies in the genes or viruses that cause certain diseases. Type 1 diabetes is mostly seen in young people, even in children: "Although type 1 diabetes can be diagnosed at any age, it is one of the most common chronic diseases of childhood. Peaks in presentation occur between 5–7 years of age and at or near puberty."
Type 2 diabetes
In type 2 diabetes, body develops a resistance to insulin because it has been exposed to too much insulin. Which leads to the pancreas needing to create a large amount of it to reduce sugar levels, naturally this organ reaches a point where it begins to wear out and the amount of insulin it produces decreases. This causes blood sugar levels to rise and prediabetes or type 2 diabetes begins to develop.
Due to "the global rise in obesity, sedentary lifestyles, and an aging population have quadrupled the incidence and prevalence of type 2 diabetes." A Unlike type 1 diabetes, this is a condition that can be avoided by leading a healthy lifestyle, exercising regularly, and having a good diet.
Diabetes statistics
According to data from the CDC, more than 34 million adults in the US have been diagnosed with diabetes, but only 1 in 5 know they are living with this condition. In the last 20 years the number of adults with this disease has doubled and it has become the seventh leading cause of death in the United States.
Data from 2018 indicate that the largest number of adults diagnosed are between 45 and 64 years of age. Furthermore, this is a disease that tends to occur more in men, with 1.7 million more men diagnosed with diabetes. R
Among the ethnic groups with the highest number of cases are American Indians/ Alaska Natives with 14.7% and people of Hispanic Origin with 12.5%. However there are some sectors that have a high prevalence of diabetes.
Diabetes treatments
Although there is no treatment for cure diabetes at this time, but there are ways to control it like: decreasing weight, eating healthy foods, and being active can all help. Taking medication as needed, receiving diabetes self-management education and support, and keeping health-care appointments all can help to diminish the impact diabetes has on your life.
Stem Cell Therapy for Diabetes
Stem cell therapy for Diabetes offers a great alternative to treat this condition. The use of mesenchymal stem cells for diabetes has proven to improve the function of the pancreas, prevent cell death, and reduce insulin resistance. Mesenchymal stem cells may also generate new insulin-producing cells. Type 2 diabetes can be treated using stem cells comparably. Although ¬-cells are still present in Type 2 patients, extra b-cells could increase the body's supply and help the patient overcome insulin resistance.
Diabetes Stem Cell treatment cost
Stem cell therapy cost for Diabetes, in Giostar Mexico, starts at $8,500.00 USD for one application (half-treatment). Pricing highly depends on the personalized protocol that the Medical Director determines based on each patient's condition. What may this include?
Transportation from hotel-clinic, clinic-hotel and airport-hotel as well as hotel-airport (mainly for our Clinics in Playa del Carmen and Guadalajara; our Clinic in Los Algodones, due to its proximity to the US-Mexico border crossing, we pick up patients on the border or at Yuma Airport and take them to our clinic or their hotel)
Lodging (available in our Clinic in Algodones) in Hotel Hacienda or Hotel Cielito Lindo
Oxygen Therapy
Body preparation – Nutritional IV Therapy
1 - 10 billion exosomes (volume depends on Doctor's personal evaluation of each patient)
1 - 4 stem cell vials (35 - 140 million stem cells)
Laboratory protocol by Dr. Anand (activation of the stem cells in order to direct them towards the affected tissue or organ)
Medical Consultation
Dietitian Follow up post-therapy
Preferential prices for future reinforcements/applications
Laboratory exams the previous day before the first application
Giostar Mexico Cell Therapy
Being part of the last three decades of innovative discoveries in the research-based area of regenerative medicine, Stem Cell Therapy promotes the reduction and stoppage of degenerative diseases or conditions, such as ALS, physical injuries and aging, bolstering the regeneration of damaged tissues, bodily processes and overall well-being.
Giostar Mexico specializes in medical tourism, receiving patients from all over the world. With the acquired understanding based on scientific research, we are able to provide personalized protocols to each patient. Through specialized allogenic mesenchymal adult stem cells, our regenerative therapy concentrates stem cells in the targeted area, organ or immune system, helping the body stop the progression of a disease or condition and begin regeneration.
References