Stem Cell Infusion
What is a stem cell infusion? This procedure refers to a specific type of stem cell application, which is intravenous stem cell therapy. With these infusions, patients usually look for rejuvenating their skin, boosting their immune system and slow down the effects of aging in their entire body. These treatments are very accessible for those who seek to improve their overall well-being or want to slow down the progression of a condition, such as arthritis, chronic pain and aging.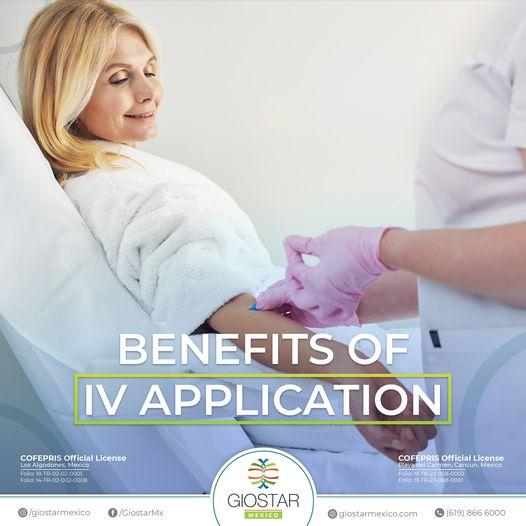 Stem cell IV infusions
Stem cell infusions are fundamental for anti-aging treatment with stem cells. These IV (intravenous) infusions are infiltrated directly into the bloodstream, revitalizing the immune system by promoting the recovery of balance between "attack and defense" of your system. This balance is necessary in order to avoid auto-immune diseases.
However, local applications are applied to specific parts of the body to directly reach where it is sought to regenerate. In this way we can directly attack wrinkles or skin problems in a faster and more efficient way.
Stem cell infusion for anti aging
For patients that want to regenerate their body and treat aging, we offer a complete anti aging package that can include facial, capillary and local applications, should the patient want to treat hair loss and face skin health.
Stem cell infusion cost for Anti Aging, in Giostar Mexico, starts at $4,950.00 USD. Pricing highly depends on the personalized protocol that the Medical Director determines based on each patient's condition.What may this include?
Transportation from hotel-clinic, clinic-hotel and airport-hotel as well as hotel-airport (mainly for our Clinics in Playa del Carmen and Guadalajara; our Clinic in Los Algodones, due to its proximity to the US-Mexico border crossing, we pick up patients on the border or at

Yuma Airport

and take them to our clinic or their hotel)
Lodging (available in our Clinic in Algodones) in Hotel Hacienda or Hotel Cielito Lindo
Oxygen Therapy
Body preparation – Nutritional IV Therapy
1 - 2 stem cell vials (35 - 70 million stem cells) - IV (Intravenous) and Facial Application (optional)
Laboratory protocol by Dr. Anand (activation of the stem cells in order to direct them towards the affected tissue or organ)
Medical Consultation
Dietitian Follow up post-therapy
Preferential discount for future reinforcements/applications
Laboratory exams the previous day before the first application
Immunomodulation
One of the main advantages of stem cell infusions is that they allow our body to regulate itself and boost the immune system. This is thanks to the fact that stem cells are responsible for maintaining the balance of the immune system. Due to diseases and the natural aging process, it is normal that body production of stem cells decreases. When patients are injected with stem cells, it allows body to replenish and restore its defenses, bringing it as close to its natural balance as possible. With this we help we prevent diseases, infections or any condition that could arise.
Anti-Aging
Advantages of stem cell therapy do not end there. As part of regenerative medicine, stem cells can also be used to treat aging, thanks to local and intravenous infusions, we can offer therapies to rejuvenate the skin, improve your appearance in general and treat a myriad of different diseases.
Results have proven to be effective, using this fusion between aesthetic and regenerative medicine. Every day we receive more patients interested in receiving our personalized therapies.
Giostar México
We are a company with more than 15 years of experience offering personalized therapies to treat conditions such as ALS, COPD, Diabetes, Parkinson and Cancer. Within the field of aesthetic medicine, we offer our patients quality treatments using mesenchymal cells, accompanied by the latest technology and the most advanced infiltration techniques to reinvigorate their health. Click on the button below for a free consultation!
How does stem cell therapy work?
Stem cell therapy is regenerative medicine applied through adult mesenchymal stem cells, via autologous (patient's own) or allogenic (donor derived) means, directed towards affected areas, organs and tissue, with the intention of providing the elemental building blocks of organisms in order to slow down, stop and regenerate damage caused by aging, diseases or injuries.
Stem cell therapy is applied through injections. There are several types of infiltrations: intravenous (IV), intrathecal (IT) and local. Each kind of infiltration serves a specific purpose, depending on the condition that a patient wishes to address. It is not the same to infiltrate someone to treat arthritis in the knee, than a treatment for someone with Diabetes, which mainly requires IV infusions. For neurodegenerative conditions, IV and IT infiltrations are ideal, because IV infusions boost the entire immune system, while IT infiltrations directly reach the nervous system and the brain, providing relief on the afflicted areas.
We at Giostar México use Multipotent Mesenchymal Stem cells which can be extracted from adipose tissue or umbilical cord derived. For this, we take completely healthy donors that have passed a rigorous examination.
Refences
Kogler F, Sensken S, Airey JA, et al. A new human somatic stem cell from placental cord blood with intrinsic pluripotent differentiation potential. J Exp Med. 2004;200(2):123–35.
Biehl JK, Russell B. Introduction to stem cell therapy. J Cardiovasc Nurs. 2009;24(2):98-105. doi:10.1097/JCN.0b013e318197a6a5.
Good RA, Meuwissen HJ, Hong R, Gatti RA. Bone marrow transplantation: correction of immune deficit in lymphopenic immunologic deficiency and correction of an immunologically induced pancytopenia. Trans Assoc AM Physicians. 1969;82:278–85