Post Covid 19 treatment based on Mesenchymal Stem Cell Therapy
Currently, Stem Cell Treatment is undergoing scientific evaluations focused in identifying results and effects when applied to covid-19 and post covid-19 patients. MS Diana Esquivel, from Giostar Mexico, is among several active scientists within prestigious organizations collaborating towards this much needed delivery of viable solutions for a permanent successful recovery.
Mesenchymal Stem Cells' protective effect for post Covid 19 infection.
Antibacterial – When patients suffering Covid-19 require hospitalization, it is common that, under the stress generated by this disease, their immune system is impaired, which makes the patient vulnerable to additional infections. Stem Cell Therapy (SCT) increases overall activity of our immune systems, which greatly increases the probabilities of not suffering secondary infections and afflictions.


Immunomodulation – When a viral infection afflicts a patient, such as Covid-19, a reaction known as "Cytokine Storm" is produced by the immune system. Excessive inflammation is its main effect. Excessive production of proinflammatory cytokines leads to Acute Respiratory Distress Syndrome (ARDS) aggravation and widespread tissue damage resulting in multi-organ failure and death. SCT reduces the inflammation level by regulating the immune system, stabilizing the patient's natural immune response.


Anti-apoptosis – Apoptosis is the process of programmed cell death. SCT stimulates growth factors that will prevent cell death of damaged tissues. SCT generates anti-apoptosis reaction in order to impede untimely death of cells within tissues and organs afflicted by Covid-19, that were previously unaffected and functioning adequately.


Regeneration – The last stage of SCT for Covid-19 patients promotes cicatrization and avoids fibrosis (scarring of tissue), while regulating the alveoli's permeability and regenerating the entire pulmonary apparatus, as well as additionally healing cellular and tissue damage in other systemic organs.
Our Chief Scientific Officer and Co-Founder, Dr. Anand Srivastava, was recently interviewed by ABC News, where he had the opportunity of sharing preliminary promising results.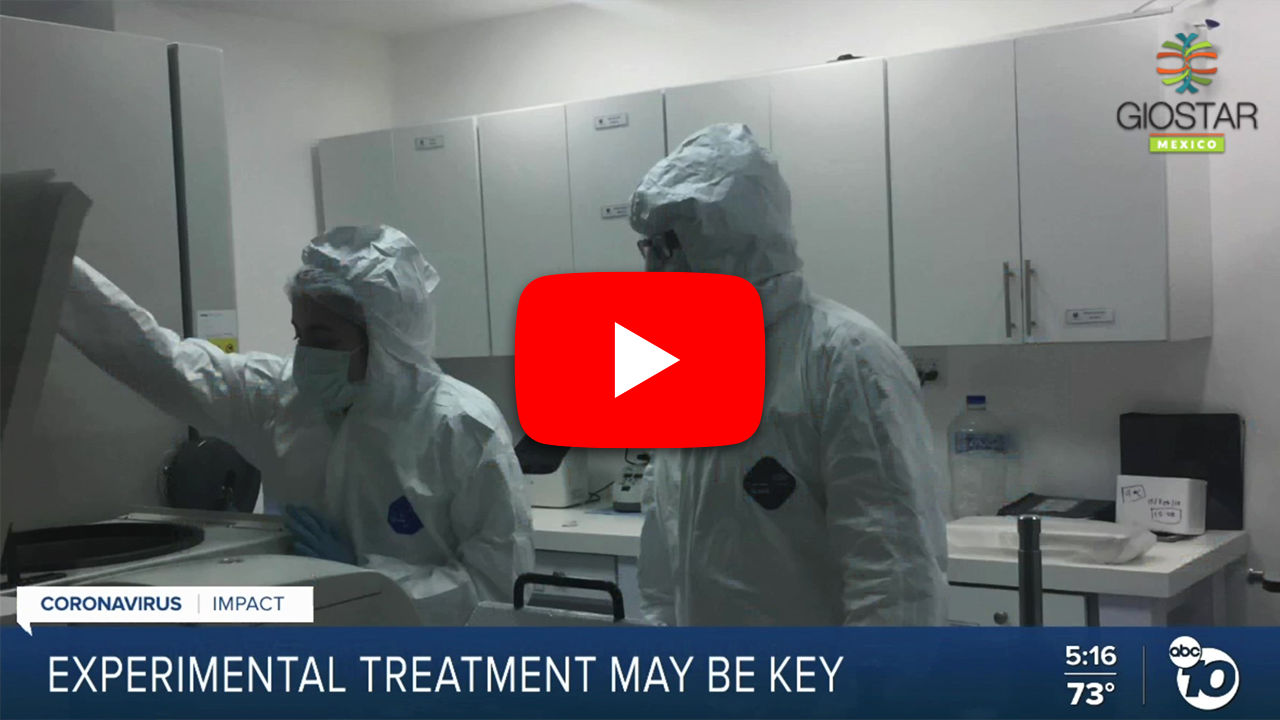 Stem cell therapy cost
Stem cell therapy cost for Post Covid 19, in Giostar Mexico, ranges from $8,000.00 USD to $15,000.00 USD, in function of each patient's condition. Pricing highly depends on the preferred clinic location the patient chooses. What does this include?
Transportation from hotel-clinic, clinic-hotel and airport-hotel as well as hotel-airport (mainly for our Clinics in Playa del Carmen and Guadalajara; our Clinic in Los Algodones, due to its proximity to the US-Mexico border crossing, we pick up patients on the border and take them to our clinic or their hotel)
Lodging (available in our Clinic in Algodones)
Oxygen Therapy
Body preparation – Nutritional IV Therapy
1 - 10 billion exosomes (amount varies in function of doctor's assesment of each patient)
1 - 4 vials (35 - 140 million stem cells)
Laboratory protocol by Dr. Anand (activation of the stem cells in order to direct them towards the affected tissue or organ)
Medical Consultation
Dietitian Follow up post-therapy
Preferential prices for future reinforcements/applications
Laboratory exams the previous day before the first application
Financial Option for Stem Cell Therapy
Giostar Mexico is continuously looking to provide our patients with resources and options to receive stem cell therapy at the best stem cell clinics in Mexico. We are happy to announce that, through United Medical Credit, our patients (exclusive for US citizens) may now receive up to $25,000.00 USD in credit for their treatment (note: price for therapy varies depending on the condition to be treated and a number of stem cells [vials] included). Patients can ask for the maximum amount of the credit or ask for a percentage based on the price of the therapy.
GIOSTAR during the pandemia
GIOSTAR Mexico stem cell therapy helps patients to direct the damage that has been done by the virus, by regenerating tissue, nerve and helping with the symptoms that the virus caused. This is an excellent alternative to help address and prevent future COVID-19 complications and conditions like lung disease, kidney disease, heart failure, stroke and blood-related problems.
If you had Covid 19 and want to find out if you're a candidate for stem cell therapy, you can fill out this contact form and we will give you a call or email you as soon as possible! Or contact us directly to our US landline 619-866-6000.
Important facts to consider
FDA recently approved the use of stem cells for COVID-19 clinical trails
https://www.giostar.com/news/giostar-announces-fda-approval-compassionate-use-treat-covid-19-stem-cells-2/
Both of the therapeutic interventions (administration of MSCs and HBO2 therapy) have been proven to be efficient and safe in treating patients infected with COVID-19 in preliminary clinical trials.
Esquivel D., Mishra R., Srivastava A. Mesenchymal stem cells therapy and hyperbaric chamber in treating COVID-19 symptoms. Annals of Medicine and Medical Research
In Stem Cell Therapy IV (Intravenous) applications, most stem cells remain in the lungs.
Durand, N.; Mallea, J.; Zubair, A. C. Insights into the Use of Mesenchymal Stem Cells in COVID-19 Mediated Acute Respiratory Failure. npj Regen Med 2020, 5 (1).
IV application has been proven more efficient in achieving immunomodulatory effects.
Qinjun Zhao, Hongying Ren, Zhongchao Han. Mesenchymal stem cells: Immunomodulatory capability and clinical potential in immune diseases. Journal of Cellular Immunotherapy. Volume 2, Issue 1. 2016. Pages 3-20. ISSN 2352-1775.