Los Algodones - Medical Tourism Destination in Mexico
Los Algodones is one of the major medical tourism destinations in Mexico where our clinics are located. This is a border city, which connects with Yuma, so it's a great alternative for our patients who lived nearby or who prefer not taking international flights. In addition, it's a city that is already positioned as one of the largest medical tourism centers in the world. Do you want good quality health care? Los Algodones may be your best option.
Los Algodones
Los Algodones, Baja California, Mexico is a small town up north of the country, bordered with Yuma Arizona. It is a world-renown destination for medical tourism as thousands of Americans and Canadians arrive at Los Algodones looking for high-quality medical care.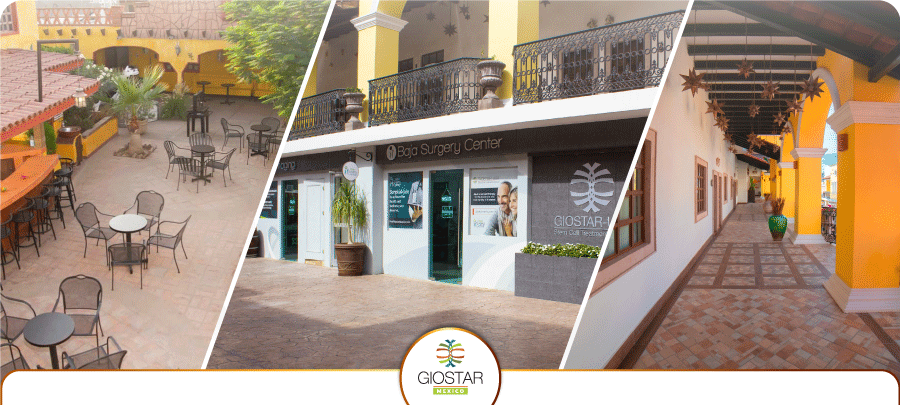 Mediplaza
This is our main location in Los Algodones, and is one of the more beautiful places in town. Is the place where you can find the best medical treatments in Mexico, including Stem Cells, Hyperbaric, Optical, Dental, and Surgery services. Also we have in the same place a gorgeous restaurant, nice café and one of our hotels: Cielito Lindo. This is a perfect place where you can wait to be treated and have a nice moment with your family.
Hacienda Los Algodones
Just four blocks from the border crossing between Yuma, Arizona and Los Algodones, we have our Hacienda Hotel. This is an excellent option for patients with reduced mobility. Most of the rooms are in the first floor and includes facilities that ease our patients stay in Los Algodones. We also include transportation from the Hotel to the Mediplaza.
Cielito Lindo
This is the second hotel we opened in Los Algodones, it's located at the Mediplaza were also is our clinic located. It's a perfect option for patients who want to be close to the clinic. In the upper floors, it has a beautiful view of the Mediplaza, Los Algodones and in the same area there is a wonderful restaurant with delicious Mexican food.
Is Los Algodones safe?
We understand the concern about safety when you travel to another country. In this case Los Algodones being a very well positioned medical tourism city, is a very peaceful one. People in Los Algodones are familiarized with medical tourists, even everyone in the city speaks English and, US Dollar has become the local currency. It's a quick and safe town, thanks to authorities on both sides of the border actively collaborating for an expedited flow of users.
Location
To get to our Los Algodones Clinic, you have to cross the border and walk straight for two blocks, without turning on any corners until you find the Mediplaza and Baja Surgery Center, where your appointment will be waiting for you.
Stem Cell Therapy in Los Algodones
When we talk about Stem Cell Therapy, USA has many limitations and regulations imposed by the FDA; this means that many of the conditions cannot be treated, since they require infiltrations that are not allowed.
But in Mexico this is not the case, because it has some of the most progressive legal frameworks in the world. This makes possible for us to treat patients with conditions that require infiltrations not allowed in the USA, for example; intrathecal, cervical or lumbar.
Another very important point is the support and regulation of COFEPRIS (Mexico's equivalent of the FDA), which verifies that all processes are carried out properly for perfect care of patients. But the main value to the average patient is price, because not only you do have the option of more types of infiltrations and a personalized treatment, but cost is significant less than in USA.
* LOS ALGODONES CLINIC *
COFEPRIS Official License: Progenitor or Stem Cell Bank
Folio: 18-TR-02-02-0001
COFEPRIS Official License: Provision of Progenitor or Stem Cells (transplant)
Folio: 14-TR-02-002-0008
Our proposal for your health
Here at Giostar Mexico we offer a very complete program to ensure that our patients receive the treatment they deserve. It depends a lot on the patient's condition, and the special requirements they need, but our therapies generally include:
Transportation hotel - clinic and airport - hotel. In the case of Los Algodones clinic, the patient is picked up at the border and taken to the clinic or hotel.
Lodging
Oxygen Therapy
Body preparation – Nutritional IV Therapy
1 - 10 billion exosomes (volume depends on Doctor's personal evaluation of each patient)
1 - 4 stem cell vials (35 - 140 million stem cells)
Laboratory protocol by Dr. Anand Srivastava (programing of the stem cells in order to direct them towards the affected tissue or organ)
Medical Consultation
Dietitian Follow up post-therapy
Preferential prices for future reinforcements/applications
Laboratory exams the previous day before first application